New South Coast trail offers spectacular views of Santa Barbara Channel, Ventura County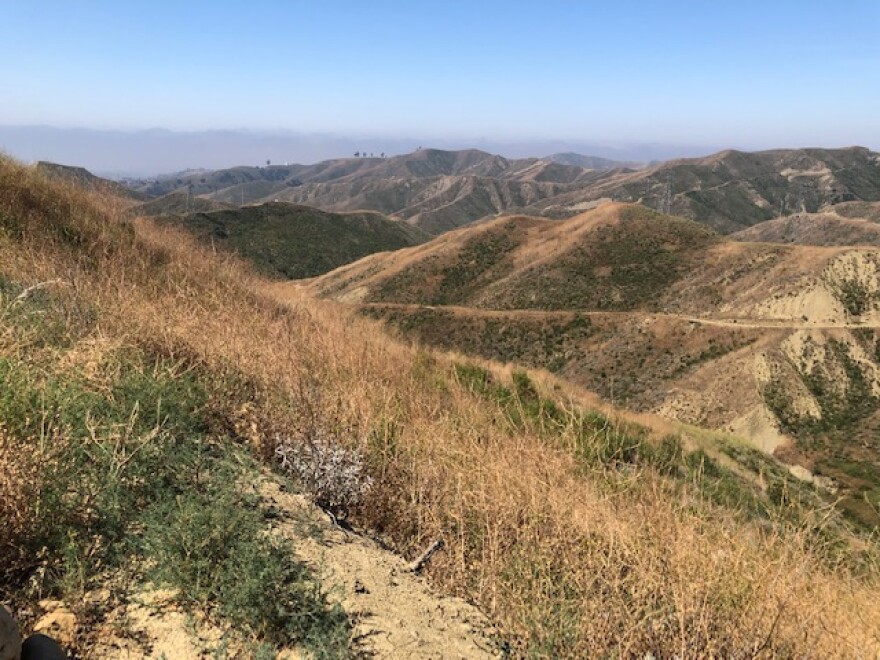 It's the latest effort by the Ventura Land Trust as it develops recreational uses for parts of the 2100 acre Harmon Canyon Preserve.
It has spectacular hilltop views of much of the South Coast, from the Channel Islands to the Santa Clara River Valley. Just in time for Memorial Day Weekend, a brand-new two mile trail in the hills above Ventura has opened to the public.
It's in the Harmon Canyon Preserve, which is a 2100 acre nature preserve on the east side of Ventura, owned and managed by the Ventura Land Trust.
Ventura Land Trust Preserve Director Daniel Hulst is here showing us a new trail that's opened just in time for Memorial Day Weekend. It turns what was a one-way trail into one with a loop on the end of it.
It's a two mile trail which goes from the top of a hillside overlook, to the base of the canyon.
"This is a multi-use trail," said Hulst. "Hikers, bikers, runners, bird-watchers...they are all welcome on this trail."
It's called Trail 203 for now, but it will be soon be renamed for some donors, as the Robert Smith Family Trail.
While the trail is new, some regular Harmon Canyon visitors have already found it. Sarah Wilson and Shelly Williams are part of a group of women who hike the preserve's trails regularly.
"It's pretty amazing to have this in your backyard," said Wilson.
"We do this weekly, and we've been doing this for the last year...and really appreciate everything they've opened up for us," said Williams.
The whole loop from the parking lot off of Foothill Road is about seven miles, but we are hiking the new two mile segment, which takes us from the crest of the hills back down to the bottom of Harmon Canyon.
The trail is narrow at times, so we step aside to allow mountain mikes to pass. While there is lots of tall, dry brush, there are also some green areas.
"We've got sweeping views of the Santa Barbara Channel, the Oxnard Plain, the Santa Clara River valley. It's pretty much a 360 degree view," said Hulst.
He said it cost about $90,000 to build the new trail, which is designed to handle rainfall without creating huge hillside erosion issues. Drains built to accommodate heavy rain are invisible to hikers, and the trail is sloped to allow runoff without damaging it, or the hillside.
The Land Trust's main goal is to preserve and protect the land, but at the same time they want to make it available for public use, like hiking and mountain biking. The new trail is just the latest element of the land preserve, which is a result of more than a decade of work by the Land Trust.
"Harmon Canyon Preserve campaign has been an $11.6 million campaign, and it's been going on more than a decade now," said Ventura Land Trust Outreach Director Leslie Velez.
She says they are now less than a million dollars away from the final goal.
The additional dollars are for things like trail projects, as well as an endowment to pay for ongoing operational costs. There's no charge to visit the preserve, so grants and donations are essential.
Visitors say they really love the preserve.
Jamie Mangonie of Ventura says she appreciates the fact this land has been preserved, is open to the public, and now has a new trail. She's a lifelong hiker, and loves the fact this new adventure is in her backyard.
"We go to the beach a lot, but for them to open up this land is really, really special for Ventura," said Mangonie. "Drop the kids off, go for a hike....you feel like you are away. Shhhhh! Don't tell anyone."