A slice of the Australian outback comes to the South Coast
It's the land of the Outback, Sydney Opera House, Crocodile Dundee and unique wildlife - but experiencing Australia is a 15 hour flight away…not to mention the pandemic.
How about a chance to experience "down under" right here on the South Coast?
A new exhibit at Santa Barbara Zoo - called Australian Walkabout - gives visitors the opportunity to do just that, and walk around surrounded by kangaroos, wallabies and emus.
Julie Barnes, Vice President of Animal Care and Health at Santa Barbara Zoo, told KCLU the highly-anticipated new exhibit is well-suited to the zoo and there are parallels between the threats to Australian wildlife and wildlife here in California.
"Many of the threats to these particular species in Australia are the same as threatening wildlife globally. Mega fires, massive drought and habitat loss - there is a parallel there."
The 15,000 square foot habitat is designed to transport guests to walkabout down under and occupies the space where the Zoo's two beloved elephants lived for over 40 years, until they passed away.
"When the elephants died we looked at lots of different options of how we could use the space.
"Ultimately the Australian Walkabout kept coming to the top of the list.
"We felt it was a great opportunity for the zoo and perfect for our demographic," she said.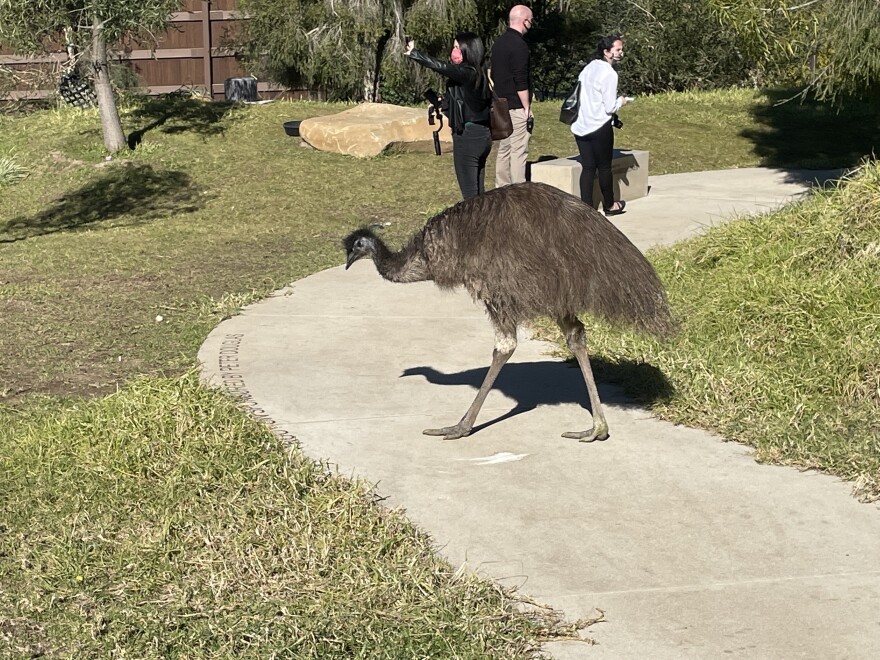 Zoo visitors today were delighted to see the new feature.
"I've never been to Australia so this is as good as it will get for now," one visitor told KCLU.
"We have been waiting a long time, I'm really enjoying it today," said another.
The exhibit opens to the public on Saturday January 8.