Is It Performance Art? Is It A Parade? Santa Barbara's Summer Solstice Parade Mixes Art And Fun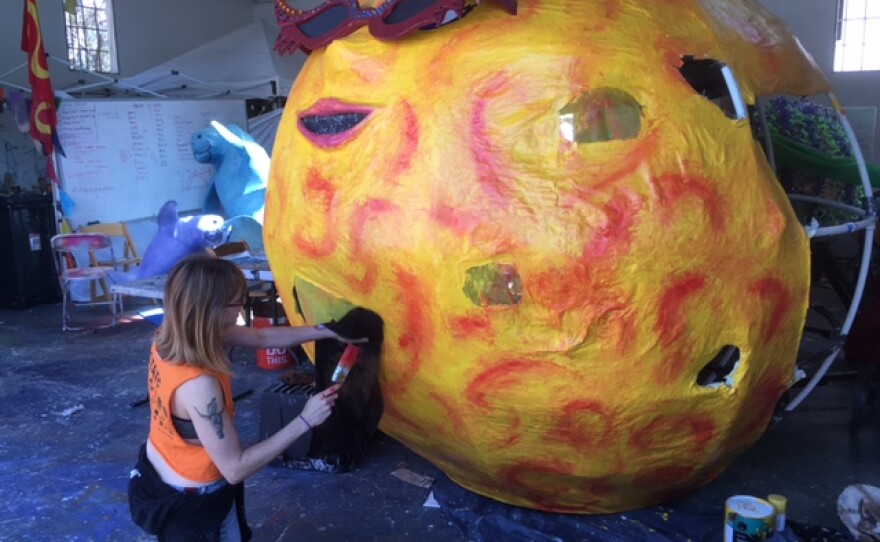 The 2017 Santa Barbara Summer Solstice parade will feature a wide mix of floats and costumes, including this giant sun
People can still sign up to be a part of a Solstice Parade ensemble, or create their own costumes
It's art and a parade all rolled up in one. Santa Barbara's annual Summer Solstice Parade is this weekend, with 100,000 people expected for Saturday's noon event in downtown Santa Barbara.
The parade is unique in that no motorized vehicles, or floats or costumes with words on them are allowed in the parade.
An army of volunteers on the South Coast is busy this week putting the finishing touches on floats, and costumes for a unique parade which is one community's ode to summer.
Both professional artists and members of the community join forces to create the elements of the parade, which features about a thousand participants. There's also the Solstice Festival, which has grown into a three day event with food, music, dance, and children's events in Alameda Park.
Information on 2017 Santa Barbara Summer Solstice Celebration: www.solsticeparade.com